The RO Foundation is excited to bring together our local community for another set of great events: The PKC Walk and Amazing Race Scavenger Hunt!
October 18, 2014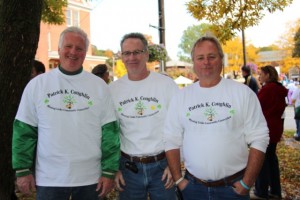 The PKC Walk
Start time is 11:00am at the Beaver Club, 64 Prospect St, Fredonia and the walk is just over 4 miles. This event once again is to honor our good friend and advocate, Patrick K Coughlin, that attracted hundreds of walkers in Pat's honor last year.
Walk-up registration beginning 9:30am the day of the event will be $25.00. We cannot guarantee t-shirt availability for walk-ups.
Lunch
Following the PKC Walk, lunch will be served at the the The Liberty, 21 Prospect St, Fredonia.
Scavenger Hunt
We will be sending everyone off with their first clue from The Liberty at 2pm sharp to approximately 8 other locations through village.
3 prizes to be awarded:
1st Prize $200
2nd Prize $100
3rd Prize $50
We will also be  raffling off 2 free Jet Blue airline tickets to anywhere in the US @ $5 a chance, and $5 a chance for Amish rocker and end table (they are going together). Plus beer cap pull.
WestFest
Begins at 4 and will end approximately 8-9. Music by Sean Patrick McGraw, Lock Down and others!
PLEASE BOOKMARK THIS PAGE & CHECK BACK FOR NEW INFORMATION!!
Proceeds will benefit the RO Foundation and their mission; assist patients and families with unexpected travel expenses and also the Patrick K. Coughlin scholarship fund.
Registration Form
Use the form below to register for the PKC Walk & Amazing Race Scavenger Hunt. Payments can be made with major credit card or PayPal. All payments are processed through the PayPal system.
Online Registration has Ended.