Russo/Owen (RO) Foundation
Assisting patients and families with unexpected transportation expenses.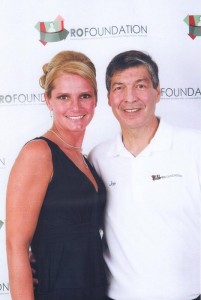 Founded in 2010 by Joseph C. Russo Jr. and Margaret R. Owen, The RO Foundation mission is to raise monies through fundraising events and donations to assist local medical patients and their families with monies to offset cost associated with "transportation" to and from medical appointments for treatments.
Research has proven the need for assistance in transporting patients to their scheduled appointments for needed treatments. Joe and Maggie have personally been down this road many of times. Joe has been faced with situations for the past ten years, starting with visits to and from Cleveland Clinic in Ohio followed by daily visits to Brooks Memorial Hospital in Dunkirk, NY, and many visits to Buffalo General Hospital in Buffalo, NY, which he still does today. No one is prepared for the cost of unexpected emergencies that involve traveling to and from hospitals near and far. My wife Dot and I have experienced this first hand or know someone that has, it can be very overwhelming.
Maggie meanwhile has had another approach to the transportation side being a family member that had to travel to and from Cleveland Clinic. I lost both my parents to cancer. "A month before I lost my father I decided I was going to make a difference by raising money or by getting the information out there". I started my own Relay for Life team and a week before the event my father passed. I have been doing Relay for Life ever since and when Joe asked me to join him to help local people, there was no hesitation. "It is something that needs to be done to help local families".
Steering Committee
Roberta Coniglio – Treasurer        Kelly Brown – Secretary
            Danielle Marx – Corresponding Secretary
John Dolce                                                       Lisa Parla Loeb
Holly DeGolyer                                                     Tricia DeJoe
Mark Kinney
RO Foundation is a fund of:
Northern Chautauqua Community Foundation