"FRIENDS WEST FEST"
PATRICK K COUGHLIN WALK/MISSING LINKS
COMMUNITY CONNECTION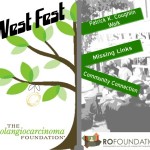 The RO Foundation is excited to bring together our local communities through a wonderful event. "Friends West Fest" is back for a second year with a new twist. This year we have added the PKC Walk/Missing Links Community Connection. Please join us for this event on Saturday, October 6, 2012, in Fredonia N.Y. We need your help with any donation you can make! Your business can help by donating store goods for baskets, gift certificates or monetary donation. These will help these great causes for our community and make this fundraiser a great success.
Last year's event proceeds went to The RO Foundation and to Patrick Coughlin (PKC) to assist with his medical expenses while battling cancer. Pat lost his battle this July and the RO Foundation lost a friend and advocate. This year event proceeds will benefit the RO Foundation with a portion going to the Cholangiocarinoma Foundation whose mission is to find a cure and improve the quality of life for those affected by bile duct cancer, Pat's cancer. A portion of the proceeds will also go to fight Huntington Disease and to assist two local families in need. The Missing Links part of the event comes from RO Foundation partner Maggie Link Owen's Relay for Life Missing Links Team named in memory of her parents, Robert and Joan Link.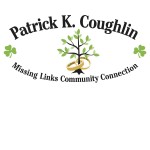 RAIN OR SHINE!
Starting at 9 a.m. the morning of October 6, a registration tent for the first PKC Walk will be in Fredonia Commons. Starting at staggered times, walkers will take five (5) different routes throughout the village ending up on Central Ave. at various points from the Dunkirk City line to the Fredonia Village Hall.
At approximately 12:15 p.m. the Churches along the route and Central Ave. including SUNY Fredonia Bell Tower, will sound to inform all participants (1700)along Central Avenue to join hands. Using the welded wedding rings of Robert and Joan Link, the last connection will be made at the Fredonia Village Hall by the Coughlin and Links families, the RO Foundation staff, and Village & County officials. At the end all walkers who registered are invited back to the Fredonia Commons for a pizza party with music, bounce tents, and a Rib BBQ provided by local Mike Porpiglia.
"Friends West Fest" will follow in the afternoon with music and food at participating establishments along West Main Street in Fredonia. Proceeds will benefit the RO Foundation and their mission to assisting patients and families with the unexpected travel expenses of food, gas and lodging for long term treatment at medical centers and hospitals.
9:00AM – PATRICK K. COUGHLIN WALK REGISTRATION – FREDONIA COMMONS
11:00AM – START OF WALK, TEMPLE ST. AT VILLAGE HALL
12:10PM – ALL WALKERS DECEND ON CENTRAL AVENUE FROM DK LINE TO CHURCH ST.
THIS WILL FORM THE MISSING LINKS CONNECTION!
12:15PM – ALL PARTICIPENTS TO JOIN HANDS, AT THE SOUND OF CHURCH BELLS WILL START
WAVE FROM DK LINE TO CHURCH ST BY LIFTING ARM TWARDS FREDONIA
12:30PM – 3:00PM – ALL WALKERS TO DECEND ON FREDONIA COMMONS FOR PIZZA PARTY!
2:00PM – WEST FEST KICKS OFF – MUSIC, FOOD, RAFFLES AND LOTS OF FRIENDS AND FUN!
2:00 PM – ELICOTT BREWING COMPANY MUSIC BY: CLEAR BLUE SKIES
3:00PM – BJ's MUSIC BY: LEFT OF CENTER
4:00PM – DEJOHNS SPAGHETTI HOUSE (REAR) MUSIC BY: ROLL OF THE DICE
5:00PM – COUGHLANS PUB MUSIC BY: US
6:00PM – 41 WEST BAR & GRILL MUSIC BY: MAC BAND
7:30PM – COUHGLANS PUB MUSIC BY: BIG TONE
******** ALL THROUGH THE AFTERNOON WE WILL FEATURE A COPELLA GROUPS ON THE SIDEWALK*********
FOR MORE INFORMATION OR TO REGISTER FOR THE WALK GO TO: WWW.ROFOUNDATION.COM AND CLICK ON THE TAB